Blunderbuss News - 2017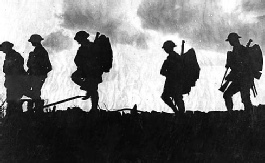 Philip Bradford - Killed in action 16 January 1917
The death of Philip Bradford was listed in the the Farnhamian dated August 1917.
Philip Bradford was born in 1894 and lived on the Waverley Estate. He attended West Street School before entering Farnham Grammar School. His father, Curtis Bradford, ran the corner shop in Alfred Road and the Waverley sub-Post Office.
Philip Bradford was a well-known member of the school football eleven. After school he helped his father in the grocery and provision business.
Early in the war he joined the Hants Carabiners and later transferred to the Queen's Royal West Surrey Regiment. He was posted to France just before Christmas 1916. He was killed on 16 January 1917. It is believed he was shot during his first spell in the trenches.
Private Philip Bradford was serving with the 11th Battalion, the Queen's Royal West Surrey Regiment. He was killed on 16 January 2017, aged 22. His is buried in grave L-32 in the Dickebusch New Military Cemetery, and his name is commemorated on the School's War Memorial.
Philip Bradford was the son of Curtis and E. Bradford, of Alfred Road, Farnham, Surrey.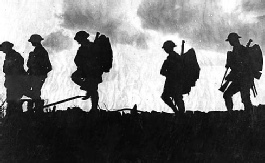 John Clement Day - Killed in action 28 January 1917
The death of John (Jack) Day was listed in the the Farnhamian dated August 1917.
Private John Clement Day was serving with the 23rd Battalion, Royal Fusiliers, and as killed on 28 January 1917, aged 20. He is buried in grave 1-D-15 at Courcelette British Cemetery, and his name is commemorated on the School's War Memorial.
John Clement Day was the son of Clement and Florence Day, of "Withdene", Gordon Road, Camberley, Surrey.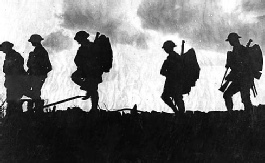 Arthur Hopcraft - Killed in action 15 February 1917
The death of Arthur Hopcraft was listed in the the Farnhamian dated August 1917.
"Arthur Hopcraft, The Buffs, killed in action at Kut". There appears to be a discrepancy between the school's record of his name (Hopcraft, as recorded also on the School's War Memorial) and the Commonwealth War Graves Commission (which records his name as Hopcroft).
Arthur Hopcraft was born in Alton and lived with his aunt and uncle at 36, Long Garden Walk, Farnham. He attended West Street School and then moved to Farnham Grammar School. He enrolled in Ashford and joined the 1st/5th Battalion, The Buffs.
His regiment sailed for India and fought in Mesopotamia. The town of Sannalyut was attacked and captured in February 1917. It seems likely that Arthur Hopcraft was killed during this action.
The Farnham Herald reported his death as follows, "Much sympathy has been expressed with Mrs. A. Andrews [his aunt] of Firgrove Hill, Farnham, who has received notification of the death of her nephew … He was killed in action on February 15th 1917 in Mesopotomia. He was the youngest son of Mrs. Hopcraft of Bentworth. Lance Corporal Hopcraft was an old Farnham Grammar School boy and was well known and liked by the people of Farnham."
Lance Corporal Arthur Hopcraft was serving with the 1st/5th Battalion, The Buffs (Royal East Kent Regiment) and was killed in action on 15 February 1917. He is buried in grave XXI-M-10 at Amara War Cemetery, and is commemorated on the School's War Memorial.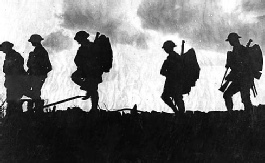 Sidney John Elliot Spencer - Killed in action 28 February 1917
The death of Sidney John Elliot Spencer was was listed in the the Farnhamian dated August 1917.
Sidney John Elliot Spencer was previously wounded in France, and recovered from his wounds in a hospital in Brighton. His parents were well known for running a drapers shop at 51 The Borough, Farnham.
After recovering from his wounds Sidney Spencer wanted to return quickly to the front and catch up with his friends. Unfortunately he found that most of them had been killed or wounded. Sidney was later killed fighting on the Somme on 28 February 1917.
Private Sidney John Elliot Spencer was serving with the 2nd Battalion, Royal Fusiliers, and was killed on 28 February 1917, aged 23. He is commemorated on Pier and Face 8 C 9A and 16A of the Thiepval Memorial, and is commemorated on the School's War Memorial.
OFA Annual Lunch - 25 March 2017
The 85th Annual Gathering of the OFA took place on Saturday 25 March at the Surya Farnham Hog's Back Hotel. There was an excellent turnout of "old boys" for the event.
Brian Williams said grace after which all stood in respect, as the names of Old Boys who had died in the past year were read out.
The guest speaker was Sally Francis, Principal at Farnham Sixth Form College from 1997 until 2007. She recalled her dealings with the Old Boys and appreciated being a life honorary member of the Association. Her speech was typical of this well liked Principal and contained some humorous recollections.
Gordon Andrews proposed the Toast to the Association and told the guests that in his youth he was a sickly child and frequently spent time ill in bed. To keep his mind active he began to explore mental arithmetic and in time could work out difficult mathematical sums in his head. Returning to school he amazed the teachers with this new found skill and gave an example to the guests of this. It was an interesting and very original toast.
Ted Mayne made the Toast to the Association and explained that after leaving school he worked for a while in France and improved his ability in the language. On returning home he applied, and surprisingly obtained, a position with the diplomatic corps. This resulted in many years travelling across the globe and he thanked the old school for giving him an excellent basic education.
Roger Edgell replied to both toasts with his dry wit and explained that the Old Boys were increasingly involved in supporting projects at the Sixth Form College. He welcomed former Principal Mike Potter to the dinner and said he would always be welcome. The current Director of Farnham SFC, Dr Jason Jones, was unable to attend.
Derek Bowtell made the Roll Call and guests stood as he called out the years covering their years at school. John Crotty was first to stand for the year 1941 and John Clarke and Julian Walden were left standing with the last year of grammar school pupils in 1978.
We look forward to another enjoyable lunch in 2018.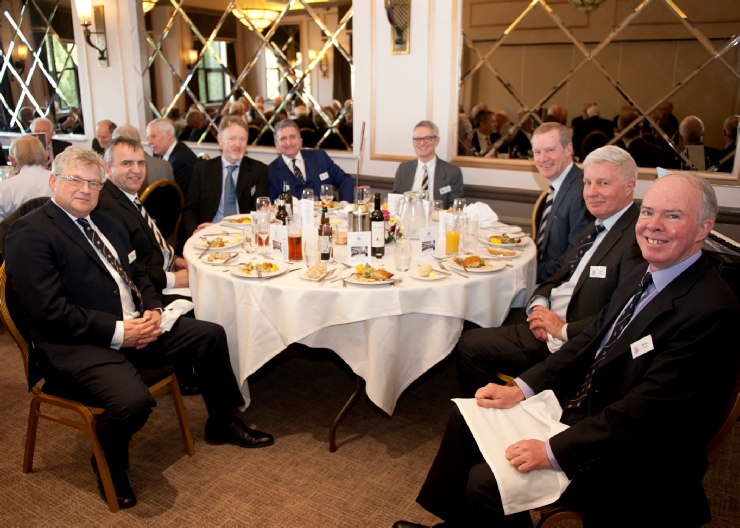 Table 9 at this year's Annual Lunch
Jazz and Comedy at Farnham College - 1 April 2017
Guests attending the Old Farnhamians and Farnham Sixth Form College show entitled "Jazz and Comedy at the College" received quite shock as they entered the reception area and were faced with show band leader, Geoff Hiscott dressed as a Headmaster in gown, mortar board and wielding a cane. They were urged to take their seats or get "six of the best" and were escorted to the Performance Hall at Morley Road by current students dressed in St. Trinians garb. This set the tone for a first class evening of entertainment.
This was a special evening for the college, the Old Boys and the 150 plus audience. It is hoped that £1000 was the result and these proceeds will go to the college to purchase computer equipment. A full report of the evening's entertainment can be downloaded here.
Dr. Jason Jones (Director of Farnham Sixth Form College) thanked the organiser, the performers and the helpers and wished everyone a safe journey home. This was a new experience for the college and a possible repeat will be considered for 2018. You have been warned!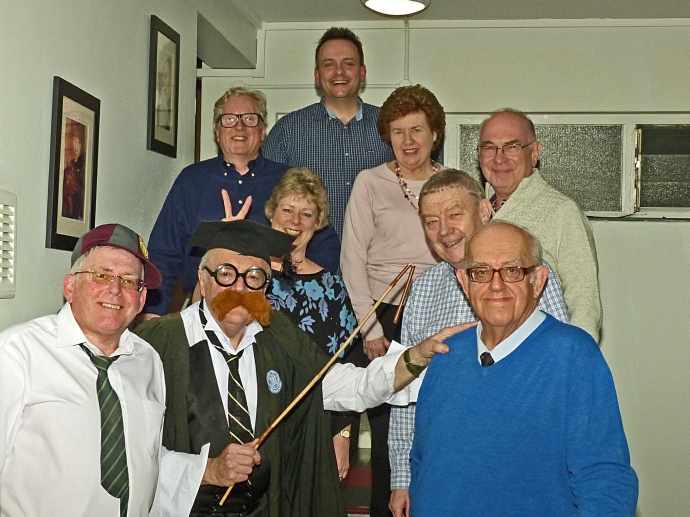 Front row: Nick Ridley, Headmaster Geoff Hiscott, Cyril Trust (Organiser); Second Row: Sue Lampard (Quintessential), Roger Edgell (President of the Old Boys), Back Row: Richard Phillips (Old Boys Vice-President), Jason Jones (Director of Farnham Sixth Form College), Wendy Craig (Chief Executive for Tindle Newspapers), Brian Wiliams (Secretary for Old Boys).
Jean Blair - Died 29 November 2016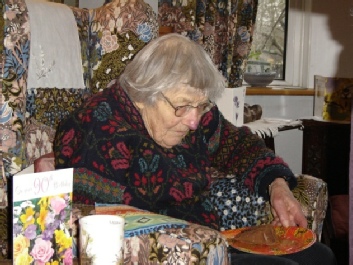 We regret to report the passing of Miss Blair on 29 November last. She was aged 94.
A short obituary has been added here, and further details can be read in the final FGGS OGA newsletter.
Farnham Beerex - 28 April 2017
A number of us were able to attend the Saturday lunchtime session at the Maltings Beerex. This year we were delighted to be joined by Andy Vincent!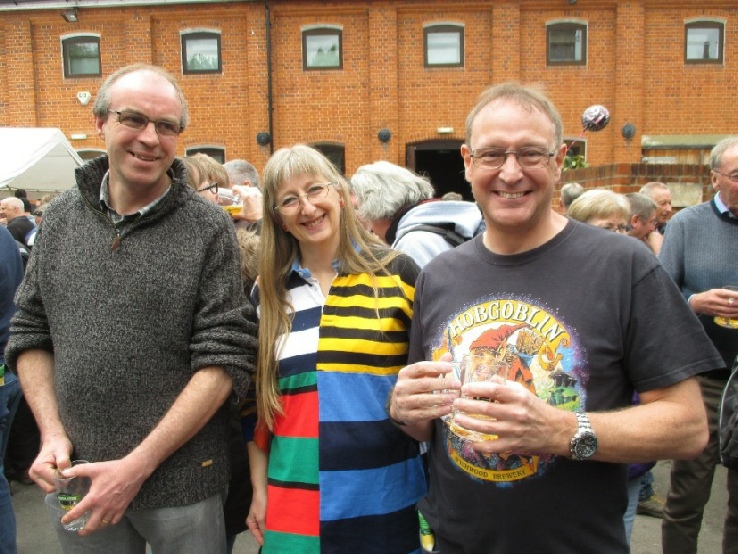 David's Hymnathon - 30 April 2017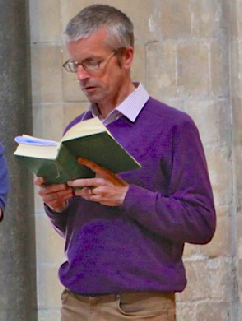 The Beer Festival as closely followed by David Bathurst's Hymnathon. This unusual event was held at St. George's Church, Eastergate, Sussex.
David tells us that, "Between 29 April and 1 May inclusive I will endeavour to sing, from memory(with organ accompaniment), all 400 hymns in the BBC Songs Of Praise hymnbook. Unlike my Bible reading I will stop for sleeps! The timings are 9.30-5.30 (Saturday & Monday) and Noon-5.30 Sunday. Monies raised will be donated to the Friends of Sussex Hospices.
During the afternoon of 30 April, David sang "Dear Lord and Father of Mankind" dedicated to FGS, FGGS and FC, former students and staff.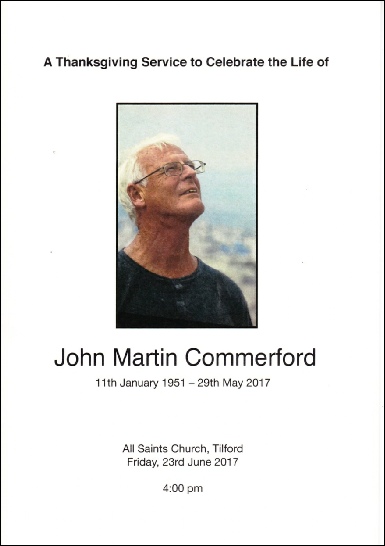 Memorial Service for John Commerford - 23 June 2017
A Thanksgiving Service to celebrate the life of John Commerford took place in All Saints' Church, Tilford, on the afternoon of Friday 23 June.
It was followed by the interment of John's ashes in the churchyard.
Afterwards, a party to further celebrate his life took place in the Tilford Institute.
As previously reported on our Facebook page, John passed away on 29 May.
For many years he taught Physics at the Grammar School and Farnham College. A full obituary has been posted here.
Many former staff and pupils attended both the Thanksgiving Service and the party. We include a photo of John, Andy Sayer and Mike.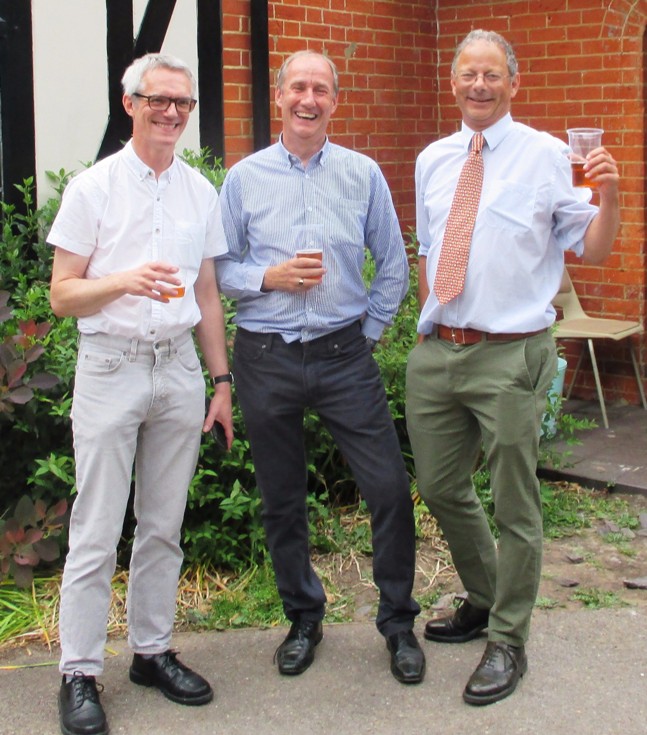 Reunion for All Years 1971-1979: Sunday 25 June 2017
The social event of the year was keenly anticipated. The classes of '71 and '72 (the last cohorts from the former Grammar Schools) met in the relaxed surroundings of Tilford's Duke of Cambridge PH.
The weather was favourable and there was a steady flow of beer and banter, followed by lunches and a further run on the ales and Hazy Hog Cider.
Former pupils had travelled from near and far; from as far away as Australia (thank you, Bridget!), from Thailand (Phil Hambly), from Scotland (Arnie Arnstein) and from the depths of the West Country (Ian and Gill Richards).
The careers of those attending ranged from ship master to barrister. The medical profession was particularly well represented. Everyone was reassured to learn that in the event of any medical emergency developing during the course of the afternoon, they could rely on the presence of no fewer than three GPs, a consultant surgeon and a consultant anaesthetist!
The sun's appearance brought out the summer dresses (on the girls, not the boys! - Ed), an assortment of hats (a splendid one was worn by Arnie), cravats, shorts (Mike) and in one case, shoes worn without socks (Chris!).
Surprisingly, Martin didn't regale us with his risque joke concerning the Second World War Polish Air Force pilot and the German Fokkers, however there was no escaping Arnie's account of his own unusual use of cling film in lieu of clothes. Fortunately, Bridget, having enjoyed several large glasses of Sauvignon blanc, raised the tone with a delightful and unexpected end of afternoon speech,
thanking everyone for being there and saying what wonderful friends we all were (hear, hear!).
Arnie was presented with his birthday card and as people slowly drifted away, thoughts turned to the possibility of staging a further social event a few years hence, marking our collective 60th birthdays.
Below, we present a photographic gallery of the reunion.