Angela Delli-Pizzi (Welsh)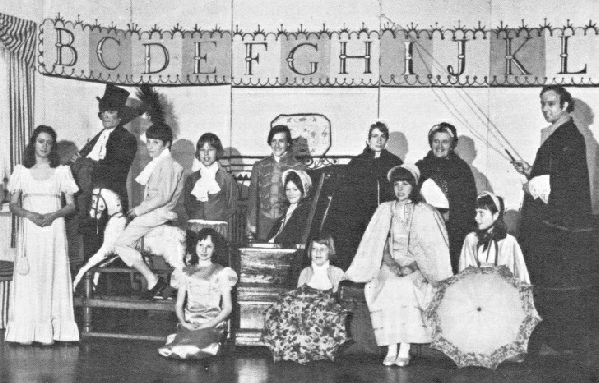 The Little Sweep (1973)
I was just looking through Blunderbuss and stumbled across the page devoted to The Little Sweep. The girl on the far right is me, Angela Welsh (now Delli-Pizzi). I played the youngest child, and I think I was a twin, the other twin being a boy played by the music teacher's son but I don't remember his name.
I attended Farnham Girls' Grammar School in 1973 & Farnham College in 1974 before moving to Sydney, Australia, where I still live. I attended Penshurst Girls High School in Sydney and went on to complete a Degree in Teaching at Sydney CAE (now University of NSW). I married my husband, also a teacher in 1981 and we have 2 adult daughters, one of whom is a teacher and the other a registered pharmacist.
We live in the southern outskirts of Sydney, in a place called Illawong, a peninsular at the confluence of the Georges and Woronora rivers. The area is commonly known as the "Shire" , our local government area being Sutherlandshire Council. However we are recent imports, having lived and worked for the past 30 years in the very multicultural Western Sydney.
I spent the first 13 years of my career teaching English Language to newly arrived migrants, firstly teaching children and then when my own children were small, teaching adult evening classes. For the past 18 years I have been working as a behavioural scientist for the state government in community safety, working on behavioural change and social marketing programs. I also run my own art design business and industry magazine. My husband is still teaching, although now he teaches high school students who are intellectually impaired rather than teaching modern languages for which he was originally trained.
We have returned to the UK a few times, the most recent visit being just last year, when we were able to catch up with an old friend from Farnham College. Yes, believe it or not, I still keep in contact with a couple of them!