News items from 2018 have been moved to the News Archive for 2018.
This year's news continues to be interspersed with details of Old Boys who were killed in action 100 years ago.
More memorabilia is in the pipeline so keep visiting the site!
News Content
M Hayes - Died 23 March 1919
Older News Content
News Archive for 2014 (includes Martin Collier's speech)
Annual Dinner 2008 (includes Mike Mehta's speech)
Annual Dinner 2005 (includes John Clarke's speech)
For even older news items (covering 2005-7) see the Blunderbuss Archive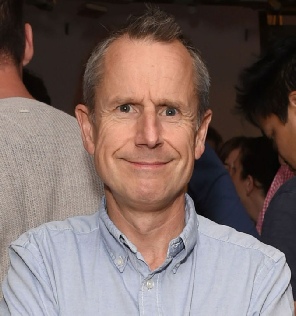 Jeremy Hardy (1961-2019)
It is with great sadness we record the untimely passing of Jeremy Hardy, who died on 1 February.
The tributes to his comic genius have been widespread, and we provide links to a number of these below. Jeremy was in the final Grammar School intake of September 1972, leaving the fully formed Sixth Form College in the summer of 1979. Jeremy went on to study at Southampton University, before embarking on his career as a comedian.
Many of us will remember his mischievous sense of fun at Farnham College, and Blunderbuss records his many appearances in theatrical productions. Some of us remember him as a waiter at the 1978 Leavers Dinner.
You can read obituaries on the BBC Website, the Daily Mail, the Evening Standard, the Farnham Herald, the Guardian, Hello!, the Independent, the Irish Examiner, the Manchester Evening News, the Metro, the Mirror, the Radio Times, and the Sun.
Obituaries have also appeared in the Daily Telegraph and the Times, but these can only be read in full with premium subscriptions to these sites.
Our obituary has been added here.