Blunderbuss News - 2020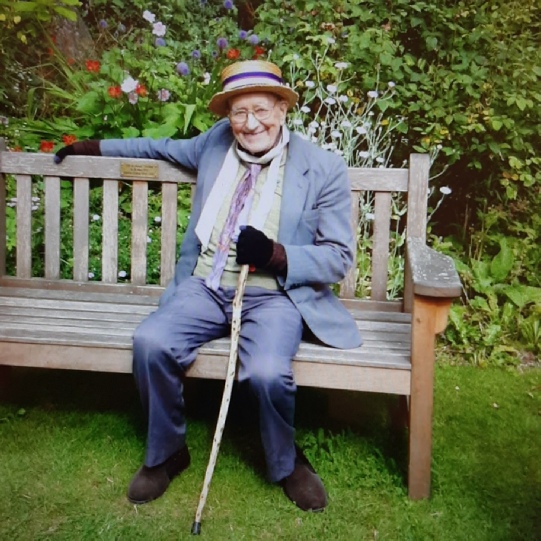 We are sorry to announce that Donald Nicolson, known to many as Nick, died peacefully on 7 March 2020 at Addenbrookes Hospital, Cambridge. A quiet funeral took place in Cambridge on 6 April.
After a couple of falls last summer he had needed daily visits from carers as well as support from family members, but he remained in his Cambridge house, where he had lived independently and happily since 1987, until his last three days.
Donald would have been 95 in May 2020, and had enjoyed a 94th birthday gathering at a pub last year with a group of his children, grandchildren and two great-grandchildren.
A memorial and celebration of his long life will be held once circumstances allow, possibly in the autumn.
We regret to report the passing of Richard Hoyes, who died, aged 73, on 29 May.
According to the notice we have seen, Richard was the "much loved husband of Lizzie, father to Becky and Rachel, grandfather to Edward, and teacher for 47 years to numerous Farnham College and Alton School students.
"His sense of fun, kindness, zest for life and witty intellect meant he was always loved by those who encountered him.
"He will be missed but always remembered and loved for changing lives - and for his singular spectacles, ties and shoelaces."
We understand a celebration of Richard's life will be held at a later date.
60th Birthday Celebration BBQ - Sunday 16 August 2020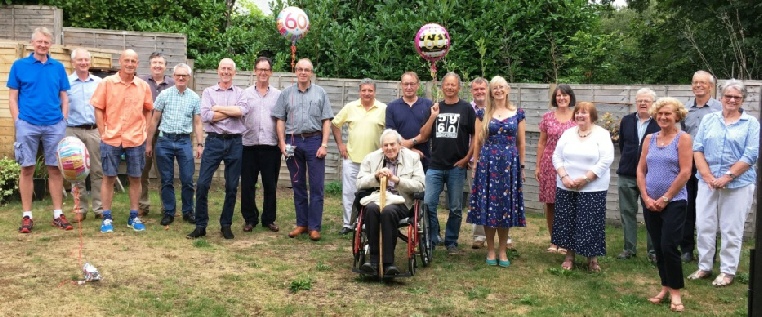 A very successful and enjoyable Birthday Celebration BBQ event finally took place at the "Barley Mow", Tilford on Sunday 16 August 2020. We were blessed with good weather and a special guest appearance of Rev. John Innes. Further photos have been posted on our Facebook page (see link above)
Your Entertainments Committee is now seeking views on the best venue for 2021 which will mark a full half century since we started at Morley Road or Menin Way. Possible venues include holding the event in the ground of Farnham College, with access to the building including the new memorabilia room. Alternatively we could hold the event at a local pub. Please do contact us with your suggestions/feedback, or post a comment on our Facebook page.
60th Birthday Celebration Quiz - Sunday 16 August 2020
One of the highlights of this year's reunion was the Sixty-Four Question Quiz set by David Bathurst covering the years 1971-1978. There were 70 points up for grabs, but we don't think anyone managed to get full marks. Consequently your Editors thought it would be a good idea to share the questions, which are listed below. Please note: your Editors do not possess the answer sheet, so any queries will have to be referred to David.
NICKNAMES:
Which teacher or FGS pupil rejoiced in these nicknames: (For teachers, title and surname will suffice)
1 Wetleg
2 Mr Nic
3 Herman
4 Slasher
5 Harry
6 Arnie
7 Tiffer
8 Plug
9 Thumper
10 Tod
WHICH TEACHER:
11 Taped over Jane Ashby's mouth for excessive talking?
12 Bashed David Bathurst over the head with an attendance register?
13 Taught maths to the brainboxes but deputised as history teacher for a lesson in the course of which a boy returning from a music lesson was asked "What instrument d'you play? The fiddle?"
14 On one of our class volunteering to him that Slough was best known for its Mars Bars, responded "They say that every year!"?
15 Would cheerfully garrotte pupils with their ties while demanding "A qui est cette cravatte? A qui est cette cravatte?"
16 Told Roger Williams to "go and clean the gutter" (and called him a "little runt")?
17 Enjoined Chris Kenny when reviewing a biography of Jack The Ripper in an English class "Don't show the corpses!"?
18 Pretended to exercise psychic powers by accurately counting down to the ringing of the school bell only later to reveal that from his desk he could see the boy walking upstairs to ring it (CLUE - shared his surname with one of our year)?
19 As one for whom English was not her first language, told her class "You make me feel collapsed!"?
20 Had a middle name Cyril, was educated at Brighton Grammar School and threatened Blunderbuss magazine with legal action through his solicitors Sue, Grabbit and Runne?
WHICH PUPIL/STUDENT:
21 Broke his leg during football?
22 Pretended, along with Jane Ashby, to fancy Mike Mehta and Geoff Whiting on a youth hostelling holiday in Cornwall?
23 Was given the nickname "Bath Bun" by Mr Grogut?
24 Played the part of Eliza Doolittle in the school production of My Fair Lady in our final year?
25 Put his hand through a glass pane in the boys' changing room requiring first aid attention from Betty Morris?
26 Got told to play his guitar far, far away, by geography master Mr Burns, who was trying to teach at the time?
27 Made up the 'G5 Lads', taking the name from their G5 classroom? (There were SEVEN of these likely lads - one point for each!)?
28 Had to write out 'I must show courtesy at all times' 100 times, by Mr Hand, for pushing his way into one of the huts?
29 When asked in a metalwork exam to design a nutcracker, wrote "Personally I prefer my nuts in bags" resulting in a deduction of 5 marks?
30 When ordered by a certain English teacher to "Wipe that smile off your face" replied "I can't!"?
WHICH OF THESE:
31 Did NOT try to teach us Geography: Mr McLaughlin, Mr Burns, Mr Chapple?
32 Did NOT try to teach us Music: Mr Thompson, Mrs Knight, Mr Hand?
33 Did NOT try to teach us Maths: Mr Ellenden, Mr Owen, Mr Britton?
34 Did NOT try to teach us Chemistry: Miss Bound, Miss Crawley, Miss McMahon?
35 Did NOT try to teach us Metalwork/Design & Technology: Mr Rayner, Mr Appi, Mr Costin?
36 Did NOT try to teach us English: Mrs Blanks, Miss Patrickson, Miss Priestley?
37 Did NOT try to teach us History: Mr Darker, Mr Sandham, Mr Hoyes?
38 Did NOT try to teach us PE/Games: Mrs Parrish, Mr Gorman, Mrs Le Grice?
39 Did NOT try to teach us Physics: Miss Parsons, Mrs Macaire, Mr Comerford?
40 Did NOT try to teach us Biology: Miss Taylor, Mrs Morris, Mrs Firebrace?
AFTER WE'D LEFT, WHO WENT ON TO:
(maiden names rather than married names used)
In time-honoured fashion, it's multiple choice but no marks deducted for wrong answers!
41 Work for Price Waterhouse Coopers as a chartered accountant?
Kevin Desmond, Anne Dixon, Marcia Jarvis
42 Become a GP based in Devon working in the same practice as her husband?
Gillian Fox, Myah Edmonson, Debbie Holder
43 Become a space scientist after graduating in Maths at Oxford?
Roger Dutton, Amanda Skeggs, Caroline Gooding
44 Emigrated to the US, and having worked as Office Manager for a TV production company, settled in Missouri?
Jeremy Vernon, Susie Pringle, Fiona Ryder
45 Qualify as a barrister and settle in Cambridgeshire?
Helen Douglas, Viv Clemesha, Martin Collier
46 Change his name to Ishmar Wolfe?
Colin Tester, Tim Scrivener, Robert McWilliams
47 Work as a German linguist for Siemens?
Sarah Shelford, Alison Rowe, Deborah Sherman
48 Become (after managing the College tuckshop) an HR manager at Sainsbury's and also a magistrate, as well as chair of the Ockley Dramatic Society?
Mike Peters, Kevin Smith, Martin Pratt
49 Become a chalet company manager and then after a spell in Montreal became a freelance fitness consultant?
Wendy Smith, Janine McKay, Joanna Wicks
50 Obtain 2 degrees and become a triathlete?
Helen Collett, Mark Bravery, Stephen Scott
51 Become a church elder, organist and webmistress?
Ali Burrows, Yvonne Cresswell, Gillian Mansfield
52 Serve a Diet Coke to Eddie The Eagle?
Paul Hobbs, Colin Elwood, David Titchener
AND FINALLY - MISCELLANEOUS:
53 Which of these was NOT one of our O level set texts:
To Kill A Mockingbird, Cider With Rosie, The Merchant Of Venice?
54 What was the location of the infamous Girls' Field Trip, where postcards home saying how awful it was were confiscated?
55 What, in the context of FGS outdoor activity, was the 12.6?
56 What did Maxine Renders smuggle into Mr Ellenden's double maths lesson one April Fools Day?
57 What was the happy union between the Physics and the French departments during our time at FGS/College?
58 Which one of these W's was NOT a teacher during at least some of our time at FGS/College -WILLS, WOLSTENHOLME, WALKER, WARWICK, WARD, WILKINS
59 Which teacher was famous for the lightning fast speed with which he could wipe a blackboard?
60 Complete this line from the Farnham College Blues Song: "Woke up this morning at a half past
four, did my History essay and a."
61 Which member of our year shares his name with one of the FGS School Houses and an American president?
62 What rude word did the 6th form girls use the white lining machine to write on the school playing field?
63 What subject was principally taught in Room 15 at FGS/College?
64 How would you like to celebrate our 50th anniversary of joining FGS/FGGS next year? (1 point for any SENSIBLE or INGENIOUS suggestion).
Rev John Innes Retires After 64 Years
Following on from our successful Reunion in August, the Farnham Herald reported (17 September) on the retirement of John Innes as Vicar.
FAREWELL TO VICAR AFTER 64 YEARS
THE Par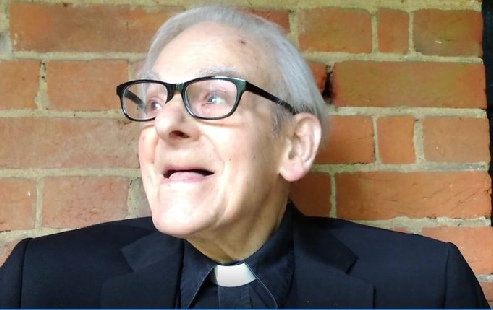 ish of Badshot Lea and Hale said farewell at the weekend [30 August] to the Reverend John Innes, 88, who is moving away for "the next stage of retirement" after 64 years of ordained ministry in the Church of England, and a side line in visiting Communist Eastern Europe in the 1960s and 70s, including being in Prague as the Soviet tanks rolled in to crush the Prague Spring rising in 1968.
John Innes was born in Scotland and was educated at Marlborough College. He studied history at Oxford and, after National Service in the Tank Corps, studied theology at Cambridge.
He was ordained in 1956 and, after a time in London and Walton-on-Thames, came to the Farnham area in 1967.
He was chaplain of Moor Park College, a Christian adult education college, then priest-in-charge in Tilford until his retirement in 1997.
He also taught Russian and religious education at Farnham Grammar School until 1996.
Since 1997 he has been a minister in the three churches which make up the Parish of Badshot Lea and Hale - St John's, St Mark's and St George's.
At the same time, John went back and forth to Eastern Europe at a time when Christian faith was partially forced underground by the Communist regime.
He was influenced by Eastern Orthodoxy which he perceived as having a mystical aspect to its theology which can be lacking in the West, and he has a particular interest in Eastern Orthodox icons.
He accompanied groups on tours of the Soviet Union and visited churches and monasteries, taking back information to Christian groups who could then arrange to take Bibles and other books to those who wanted them.
He published a handbook of open churches in Leningrad (St Petersburg) and Moscow, and it was probably his knowledge of these churches which led to him being denied a visa in 1976.
"I was with a school group and had a sketch on me of a town with the churches on it and a border guard saw it. He was very courteous and shrewd but the next time I applied for a visa it was denied. I didn't blame them."
He also visited other parts of Communist Eastern Europe and remembers the Soviet invasion of Prague in 1968.
"There was an extraordinary feeling in the air," he recalls. "You felt you could throw yourself in front of a tank."
John Innes has been a regular lecturer with U3A over the years and, despite ill health in the past couple of years, continued to conduct services in Badshot Lea and Hale.
Covid-19 prevented him doing so in person but he has been preaching up to the end, delivering his last sermon online on August 30.
The Tuesday before John and Sue Innes left the parish, Rev'd Alan Crawley, joint rector of the parish, presented them with a gift from the parish, a book which John described as a foundation classic on the study of icons: The Meaning of Icons by Vladimir Lossky and Leonid Ouspensky.
Alan said: "Thank you so much for all you have done for the parish. There are so many things that I know both of you have done - the pastoral visiting, the magazine, the church cleaning, the sermons, the groups, and I suspect I don't know the half of it.
"From Lesley [CrawleyJ's and my point of view we value all of those, but the thing we value the most is the support you have given us over all that time."
John's final sermon can be seen on the Parish YouTube Channel
We are delighted to "Plug" (pardon the pun) details of our numerous novelists who have been busy scribbling away during Lockdown to produce some excellent ideas for Christmas presents. You can even avoid the hassle of the various regulations for Tiers 2 and 3 by ordering online or by choosing the e-book version. Simples!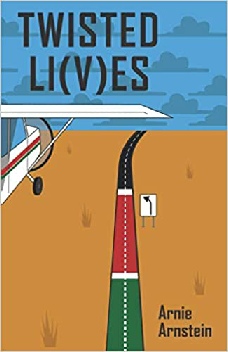 Arnie's latest novel, "Twisted Li(v)es", appeared in October, and is the second in a planned trilogy.
Faced with looming debts, the offer of a lucrative special mission proves too hard to resist for ex-RAF emergency medic Paul Wright. It will take him from the safety of his London job to hot dangerous East Africa. But who is really behind the perilous retrieval of Mr Mbuto and for what purpose? What he discovers will throw his conscience into a spin. Should the doctor compromise his morals for the greater good? And is it all worth dying for? Enjoy this second novel in Arnie Arnstein's trilogy. Look out for the third soon in which Phil Mater and team face a unique deadly challenge…
Available at £8.99 (paperback) or £2.99 (kindle e-book)
Details of Alternative Li(v)es, Arnie's debut novel, were reported here. As before, all royalties will be donated to Arnie's chosen charity.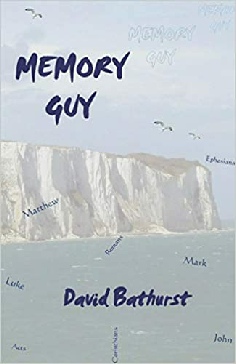 David's latest novel is called "Memory Guy". This novel revolves around two men: Matt, a hard-working criminal lawyer who as a result of previous family tragedy has turned bitter, cynical and self centred, and Jake, a highly intelligent but severely disabled and autistic man, devoid of any social skills and perennially unpleasant to everyone he meets, yet at the same time possessing an astonishing gift. As a result of an ill-advised attempted liaison between Matt and one of his clients, a train of events is set in motion which results in Matt and Jake coming together and, against seemingly all the odds, forming an unlikely but powerful friendship - a friendship that will give Jake the chance of greatness.
David adds that, "every penny received from sales of the book will be donated to the Sussex Snowdrop Trust which, as you may know, provides help for families with children suffering life-threatening or life-limiting illness. Like so many charities, its income has suffered badly as a result of the pandemic."
Memory Guy is available at £9.99 (paperback) or £1.99 (kindle e-book)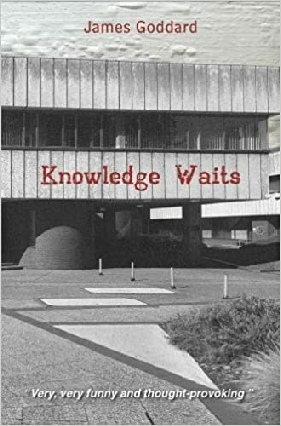 Jim Goddard reports that his novel, "Knowledge Waits", is now available again in paperback, direct from the publisher this time as both Amazon and Book Depository seem to be out of stock.
Reviews, however, can still be found on Amazon, including contributions from old FGS boys Derek Stoddart and Tim Neasom.
The novel is set in a seedy boys' school and uses various FGS names simply because I liked them. The school in the novel is nothing like FGS.
Zitebooks of London is currently having a winter sale and copies may be purchased from them for only £7 including p&p at: https://zitebooks.com/books/knowledge-waits-james-goddard/
Zitebooks also posts further information on Jim via this link.
Please read the Amazon reviews before buying copies for all your friends and relatives this Christmas!
We regret to report the death of Pamela Harding at the end of 2020, aged 94. Further details will be posted in due course.
Mrs Harding was appointed as one of the Vice-Principals of Farnham College when the two schools merged in 1973. The Farnhamian (July 1973) recorded "We say hello to Mrs Harding who joins us as a Vice-Principal of the College" and elsewhere noted that "Room G will be the Vice-Principal's office (she's a female version of Mr McLaughlin)". David Bathurst recalls that Mrs Harding started at FGS at the beginning of the 1973 summer term and led a full school assembly on 10 May.
Janet Jude tells us that Mrs Harding remained as Vice-Principal if Farnham College until she retired in the mid-eighties. She had worked with Paul French in his previous school and he brought her with him. Her subject is believed to have been English, but she did little teaching.
Any further information is welcome.