We will be posting various reports and photos about sporting activities on this section of Blunderbuss. Some fixtures calendars appear in the Year by Year section, but our record of these is incomplete. If you have any of these, please contact the editors.
There are separate pages on Cricket and Football, covering 1971-75.
Farnham College 1st team 1976-77
Farnham College Rugby Team 1977
Farnham College v Danecourt High School 1978
1974-Spring 1975 Calendar of Fixtures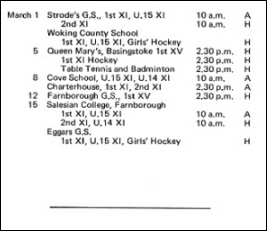 The Farnham College 1st team for the 1976-77 season, with Mick Peters and Gordon Langridge on the back row (left):
The Farnham College 1977 Rugby team
Identified so far are:
Back Row: Simon Oelman (centre); to his right is Pete Dale, and Paul Madelin (far right)
Front Row: Tony Lawrence (far left), Ralph Mellon (with ball), and Chris Fitch (far right)
Farnham College v Danecourt High School Match
This report is taken from the Farnham Herald dated 20 January 1978.
College Chase Honours: Farnham College 3, Danecourt High School 0
"Farnham College entertained and decisively beat Danecourt High School from Broadstairs, the Kent U/19 Schools Champions, in the first round of the national competition at Morley Road on Wednesday.
With conditions difficult underfoot due to heavy frost, both sides took their time in finding any measure of consistency in their play.
However, as conditions were mastered Farnham College emerged as the team most likely to take the lead, going close on two or three occasions. A well-rehearsed short corner drill by Webb and Foster caused the visitors trouble every time it was used.
From one of these corners, Alan Webb spotted the Danecourt keeper off his line and as the defence ran out, accurately chipped the ball into the far corner of the goal to put Farnham ahead after 25 minutes.
Despite having an Adrian Probert goal disallowed, Farnham found themselves under considerable pressures as Danecourt played their best football of the game, but resolute defence and competent goalkeeping by Slinger kept the score to 1-0 at half-time.
The second hald saw Farnham take an early grip on the game, which they never relinquished. The more physical the Danecourt play became, the calmer and more assured was Farnham's. Peters, Probert, Henderson and Langridge in the home defence were more than equal to all that was thrown against them and were quick to break into attack at every opportunity, while Whiting constantly probed and harried as central stiker.
Farnham increased their lead midway through the half when Bartlett coolly socred, following good work on the right by Cross. Stuart Gordon put the result beyond doubt ten minutes from the end when he volleyed home in spectacular fashion from a self-made opportunity.
Farnham College travel to meet Strode's College, Egham, in the final of the Baird Trophy, the Surrey Schools' U/19 Cup, in which they were runners-up last season.
The College remain unbeaten in their County League games and look set to reach the play-off which they won last season.
A. Probert, A. Webb, M. Foster, R. Henderson, S. Whiting, G. Langridge and M. Peters have represented Surrey Schools this season in inter-county matches."