Old Farnhamians Newsletter
This Owing to rising costs and falling membership, the final printed Farnhamian magazine in its booklet form was sent out in January 2020.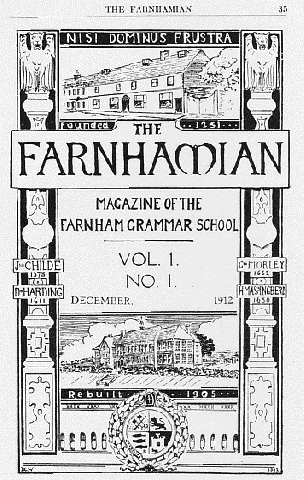 The original magazine was printed in December 1912 and appeared regularly until 1973, when the Grammar School became a Sixth Form College. The Old Boys remained in contact via a newsletter until Cyril Trust resurrected the original magazine in 1994 and edited an issue each year for over 25 years.
You can read more on the centenary of the Farnhamian here.
There is still input from Old Boys across the world and this new style newsletter is designed to keep the membership informed of news and related material either through the post or electronically via e-mail. The Newsletter will be distributed
digitally to OFA Members so please ensure an e-mail address is available to you.
Please continue to send in news as usual to Roger Edgell, who collates and edits each issue. The newsletter usually appears each January.
Click on the images below or the hypertext link to open each issue (which are in pdf format)