We regret to report the death of Mrs Betty Bullock, who died on 27 April 2013, shortly before her 98th birthday.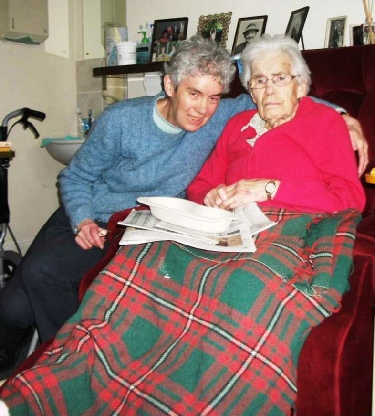 Betty Bullock, a fondly remembered teacher at FGGS, died in April 2013.
Betty Bullock with her daughter
She was born above Palmers Funeral Services (Budleigh Salterton) on 26th April 1915 and died just short of her 98th birthday, and fittingly laid to rest in that same building, below her birth place.
She was the daughter of Harry Carter who ran a hardware shop in the town and went to school at Crediton, progressing, very unusually for a woman in the 1930s, to Reading University where she read Botany and Zoology, and mathematics.
She was a keen sportswoman playing tennis, hockey and was a very good swimmer as well. She moved to Aldershot to begin a teaching career, and that was where she met Ted who taught maths at a local boys' grammar school. We understand that she had a piano and Ted was a very good pianist who didn't have a piano, and that was what brought them together. Four children followed, Richard, Rachel, John and Frances, sadly both John and Frances predeceased her.
In 1971 Ted died from cancer and following this Betty moved back to Victoria Place in Budleigh. She kept busy with bridge and Probus club and was a committed member of St Peter's Church.
As a teacher she was evidently an inspiration to many, she was someone to encouraged people to fulfil their potential. Her daughter, Rachel has mentioned her gratitude for all that her mother and father did in encouraging all four children through education and out into the world. She recently met an old girl who repeated what one of her first girls had said she remembered, how she held her maths book on her boobs and also about how maths is full of truth statements so she may have hoped that errors would be righted by God.
She spent her last few years in Bay Court home in Budleigh Salterton, Devon.
[We are grateful to the FGGS Newsletter for permission to publish this obituary]