This obituary of Mr Colley appeared in the July 1973 issue of The Farnhamian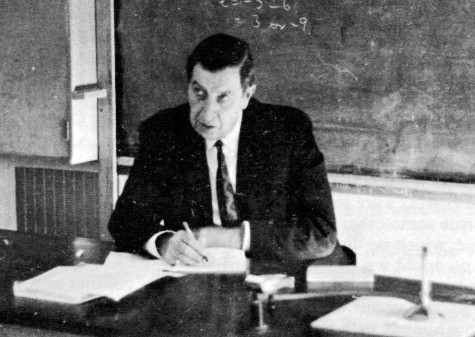 It was with great regret that we returned from our half term break to learn that Mr. Colley had died at his home on 30th May. He had been teaching at school on the previous Friday having endeavoured, despite his illness, to complete his teaching programme for those who were about to take their examinations.
Mr. Colley was 56. He graduated at the University of Wales in 1939, gaining an Upper Second Class honours in Maths, Physics and Geology. Soon afterwards he was called for service in the R.A.F. where he served as a Squadron-Leader until the end of the war.
After the war he travelled widely as a geophysicist and geological consultant with Esso Petroleum and the Iraq Petroleum Companies. His first-hand experience of industry and the knowledge of the application of his special subjects made him an exceptionally well-qualified schoolmaster when he entered the profession in 1966. After a brief spell at George Abbot School, Mr. Colley took a mathematics and geology post at Farnborough Grammar School, coming to us to teach the same subjects in 1971. He would have continued as Head of Geology in Farnham College next term and had drawn up specifications for the new laboratory.
Mr. Colley will be remembered especially for the geological expeditions which he led to the coast and to the Cheddar Gorge in order to collect rock samples and fossils. It was good to see boys fully involved in their geological study in the field as well as in the classroom.
We will remember Clifford Colley with affection, and in the knowledge that we have all learned a great deal from the two years which he spent at F.G.S. — not only in the subjects which he taught, but also of those finer human qualities of cheerfulness, courage and loyalty which we have seen being lived out among us during the past six months.
Hindhead Cricket Club organised a fund raising match in memory of Julian and another ex-player in aid of Macmillan nurses on 25 August 2013.