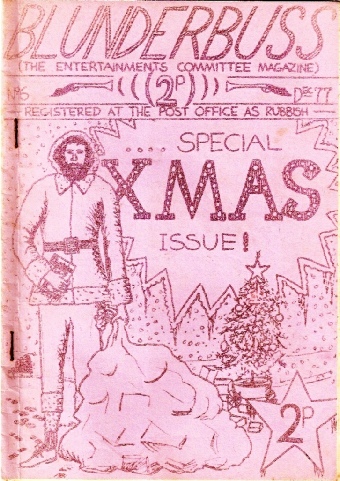 This page provides the full text of the sixth issue of BLUNDERBUSS.
It appeared in December 1977, being a special Christmas and "Welcome Home John [McLaughlin]" issue.
You can explore the full Blunderbuss archive here.
Contents of Issue 6
Letters Re the Jo Fawkes Night
Well, here we are again with another super issue of Blunderbuss. And this one is super, being a special Christmas issue with the additional welcoming cover for Mr J. Mc Laughlin. We expect you've noticed the increase in price. Unfortunately this was unavoidable due to excess costs and Christmas.
You will also see that there is a rather revolutionary letter at the back of the magazine, but you have to read the rest of it before you come to that. You will be sorry to hear that this will be the last Blunderbuss with the Ents. Comm standing as it is. However, with the great enthusiasm of the members of 61 , I am sure there will soon be new issues of our Penny Twopenny Dreadful.
HAPPY CHRISTMAS! to you all,
God save the Queen!
Goodbye!
P.S. Why not use the Postbox in College for your Christmas cards?
Now's the time for work and play,
As you come to College from day to day.
But don't let the teachers get you down,
If you get fed up, go into town.
The lessons, surely, are not too long
So you can do all right and little wrong.
And home-study too can not be bad,
Unless, like me, you're a little bit mad,
And all you may do is weep and mourn,
Sensing that your life is torn
Apart from end to end - but think,
You can do no more than sink
Into the lapse of College routine
Whether or not you're the least bit keen.
Anon (because it's so bad)
"Knock, knock"
"Good morning Sir, Doctor Barnado's home"
"Thanks very much, where's he been?"
ARNIE Retiring Chairman
Sue Griffiths
Jane Sheldon
Geoff Whiting
Martin Collier (Editor)
Louise Trebble (Editor)
Julian Wakefield-Harrie (Idiot)
Mike Mehta
DON'T FORGET
You need a ticket for the Christmas disco.
You won't be allowed to get into the Christmas disco without a ticket.
There will be a Christmas Postbox for your cards, in the Entrance Hall. Please write names clearly on the envelopes, and put tutor groups or Room numbers, or both, to make Father Christmas's job just that little bit easier.
Don't forget to help Mummy around the house at Christmas time. There's lots of work to be done feeding you, and Christmas is for Sharing. (Ah)
The burly boy climbed onto his scooter, carefully pushed his helmet down over his ginger hair, strapped it around his stubbly chin and put the key in the hole, so to speak. "Broum! Broum!" and he went off down the high street, up the low street, and swung into the College gates. Casually, but proudly, he wheeled his magnificent machine through the rows of other bikes, unavoidably stepping on one or two of them as he went. At last, unstrapping his belt, (um, nice!) (of his helmet - twit) he adjusted his yellow socks and strode into Room 16, at least he thought he did, but he was new to the game (no wise cracks please.) The teacher arrived and the noise continued. "I will have silence!" he screamed, above the hustle of the students, but his shrieks went by unheard. At last, at 9.10am twenty minutes late (an absence slip will be handed to him) he got up off the floor, shook himself all over and threw his chalk at the blackboard, missed, aimed again and ... missed again. But he had achieved his aim, his chalk was in three pieces. At last a grim silence harrassed the classroom inmates (ooh, do that again) and the lesson was his, or was it?
"I am Mr Buzz and this is my Buzzby lesson," he declared. A deathly hush masqueraded the room, and gradually students slipped off their seats, and slid along the floor towards the door, paying no attention to the lecture continuing above their heads (both meanings implied). Soon onlh the burly boy remained, who sat, watching avidly, as the words poured from the man's mouth into a bcuket waiting below. What could Burly Boy find so interesting?
Answers please, on a postcard, to,
Madame Louigié,
c/o Somebody please?
Farnham Globetrotters
THANK YOU:
To John Clarke, for his cover design;
To Mrs Brown, for fitting us in her busy timetable;
To the Council, for allowing the magazine,
To all of you for buying it,
To all of you who contributed.
A true account.
We arrived at the College a little cold, but eagerly anticipating what was to come. Soon after 7 o'clock, a little man ran across the field with sparklers attached to his hand, which we thought was great fun. Then the real fireworks began, and so did the chorus of ooh! aah! Slowly the sky opened for a mass of colours, bangers and sparks, while the ground received the well spent casements. The best one was the Catherine wheel which whished round and round scattering little stars as it went and illuminating the smiling faces around it.
When all the fireworks were finished the crowds rushed in for the disco, which went on in much the same way as most discos do ie. people without tickets pestered members of the Ents. Comm. and staff to allow them to enter. (Take note now; if you want to go to the Christmas disco, DO NOT LOSE YOUR TICKET. WE CANNOT LET YOU IN WITHOUT ONE. There will be too many people who will want to get in, and numbers are limited, so be warned.)
Have a good Christmas!
Letters Regarding the Jo Fawkes Night
N.B. These are all genuine.
TO The Farnham College Entertainments Committee.
I greatly appreciated your kind thought in sending me the invitation to the fireworks on 4th. I thoroughly enjoyed the display. Many thanks.
All good wishes,
Jean Melhursh
TO The Farnham College Entertainments Committee.
Sir,
Somewhat belatedly I write to tender my grateful thanks to yourself and your Committee for so kindly inviting us to your display. The show was greatly enjoyed by myself - and by my grandchildren.
Again thank you so much.
Yours sincerely,
Ted Lough
Mrs Crundwell would like to thank the Farnham College Entertainments Committee for their kind invitation to the firework display on November 4th. She availed herself of their hospitality and brought some of her grandchildren, and it was much appreciated.
Thank you to all those people; it is nice somebody is willing to take the time to write to us in true gratitude.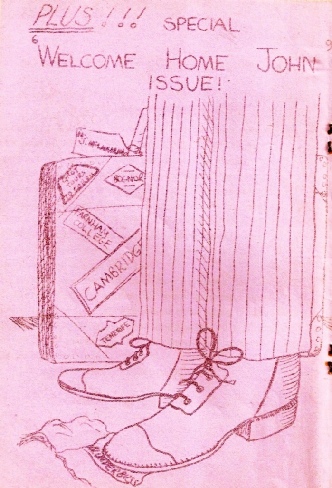 A series of letters (some genuine) welcoming the aforesaid member of staff back to College.
Dear Entertainments Committee
I don't suppose that you'll print this letter but I thought you ought to know how much I like your idea of an old entertainment brought alive again. In these days of sorrow, it is a refreshing thought to know that some things are still going even if they are considered to be past their prime. Bringing Mr McLaughlin back into the Public's eye is, to my mind, one of the best entertainments that you've produced this term. Thankyou.
Yours sincerely,
A. Spragget
Dear Ents Comm,
I hear that old John is coming back. Well done! and Congrats!
Bye for now,
Bert
Dear Ents Comm.
Thanks for John.
Anon.
Dear Ents. Comm.,
So you think you're great do you? Well think again. What possible good to you think Mr McLaughlin is at College? He only creates shadows on the walls, and what's the good of that? Still, we hope he had a nice time away from us all,
Lots of love.
from the girls
I think it is now time that I make it quite clear that the Entertainments Committee had nothing to do with bringing Mr McLaughlin back. We wouldn't dream of it; they'd be nightmares. [sic] However as there are so many people obviously pleased to see him back, and as we are a Committee for the Students we will simply say,
Welcome home, Welcome, Come on in and close the door. You've been gone too long, Welcome you're home once more!
(Words of a Peters and Lee number, if you didn't realize)
Teacher: "I refuse to start the lesson until the room's settled down"
Student: "Well go home and sleep it off then"
By O. B. Scurity
The room was brightly lit, casting shadows and reflections all over the blue tiled floor. The room was well furnished and on the white wooden chair, guarding the corner, lay the instrument with which the dastardly crime was going to be performed.
They sat here, as I pushed the slightly ajar door open, glinting in the light. It caught my eye and made me stare at it, until my eyes began to hurt. I blinked several times, so as to dampen these human cameras.
I stepped forward briskly to the chair and picked up the relatively pair of scissors – the potential of harm, which I held in my hand, suddenly struck me. I sat down swiftly so as to clear my thoughts. I was there for one reason only …
I placed the scissors in my right carefully, in an appropriate orientation for the operation. Bewilderness – what am I doing? Thoughts flashed through my mind for a moment, letting the stance of my hand dwindle. I was so depressed. The present predicament which I faced was just another attempt to overcome this single endeavour, which tortured my mind. Perseverance was my weakest attribute. My right hand took up its previous position, with the scissors yawning in it. I nearly threw them down then, but I was suddenly overwhelmed by courage. I stabbed myself five times, leaving jiggered scars as reminders of the event. I had failed with my right hand. How would I do with my left?
I placed those wretched scissors into my left hand and injured eyes scanned the floor. I had been careless – there were bits of lying [sic] on the blue tiles, staring up at me, and yet there was no colour of ? to shock me at all.
The yawning scissors closed shut as I proceeded to hack myself ruthlessly with them. I was heartless. The ferocity of the stabs frightened me. What a mess of the whole situation I had made! No blood, but mutilated wrecks lay strewn across those peacock blue tiles, as well as in a sea of flesh on me. It disgusted me.
One more stab and I would be finished. I steadied my hand, only to hear a movement on the stairs. Someone intended to intrude on a most private and delicate situation. One stab would do it, but should I do it before this sacrilegious offender reached the top stair?
Suddenly the top stair creaked. I had failed again. I looked up and gazed upon the most horrendously moulded and warted body of a woman. It was my mother.
"Touched up your cuticles then dear", she screeched in her usual manner – arms flying.
The blood rushed to my head as I replied.
Thank you to O. B. Scurity
The Editorial Ended, Letter from the Chairman
"Get up and move"
Just over a year ago I entered T.2. and joined the E.C. Believe it or not I've never regretted it. However Geoff, Mike and I decided the time is now right for us to withdraw into the background and so give the power to the Committee members and an opportunity to build upon the enthusiasm of the present and past Committees. I would like to take this opportunity to thank Geoff, Mike Dave Phelan, John McLaughlin, Mrs Brown, Harding [sic], and all the other people for their friendship and help in making my role as Chairman so enjoyable.
I have one message for the students of the College. You are basically here to work, but don't let that be an excuse not to enjoy yourselves … as Mike Mehta once said at a College disco with gesticulating movements of extremely extensive arms …
"Get up and move … Keep moving!"
Arnie (Former Chairman and Loony)