Here we present John's obituary, which also appeared in the March 2015 edition of the Farnhamian. It includes a photo pf John which was not published due to insufficient space. The obituary was compiled by a number of his former class mates.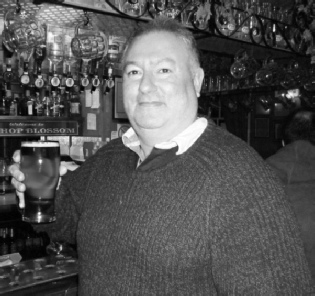 John Peter Saunders (1971-1978) passed away in Frimley Park Hospital on 1st February 2014. He was one of the penultimate intake into Farnham Grammar School and witnessed its transformation into Farnham College.
John was an only child and lived in the Aldershot and Farnham area for most of his life. He attended Ash Walsh Infants, then the Junior School, before entering the Grammar School in September 1971. In his first year he was in Form 1P, under its then Form Teacher, John Wills, the well known and loved Art Master.
At school John was a member of the select "G5 lads", so named from one of the huts built on the edge of the playing field. The "G5 lads" comprised Mike Innes, Chris Nelms, Richard Price, John Saunders and Chris Stacey. John also acquired the nickname "Spong" (pronounced "Sponj") although nobody can recall the origins of this name. Like many nicknames it probably had no meaning, being merely a nickname given, and received, in good humour.
Following his A Levels, John read History & Economics at Leeds University. After graduating, and not being shy of work, John had a number of casual jobs until he secured a graduate management position with British Telecom. He remained as a manager with them for over 10 years when he accepted redundancy so that he could pursue a career in the financial sector. He qualified as an Independent Financial Advisor and established his own limited company which provided consultancy services (mainly in complaint handling) to a number of major financial companies. John once remarked that his work encompassed the pension review scandal, the mortgage endowment review scandal and the payment protection insurance scandal.
One of his ambitions was to retire at 40. When this proved impractical, he continued his business for another 10 years when he was in the enviable position of being able to pick and choose the work he undertook. He hoped there would be enough financial scandals to take him through to his anticipated retirement!
In 1985 John married Amanda at St Paul's Church, Tongham, and they had one son, Michael, of whom he was extremely proud. John loved all types of sport, especially football. He held a season ticket with Southampton FC and also supported Aldershot Town FC. John was also a keen squash player. Latterly he had taken up golf, and was very competitive in everything he did.
John loved to travel and visited Europe, the Mediterranean, the Caribbean and North America. In his later years he travelled to Malaysia and St Lucia. John would travel in style, first class or business class whenever he could.
John joined the Oold Farnhamians in 2005 and was elected to a General Committee member in 2011. John attended most OFA functions including the annual dinners and the 40th anniversary event held in September 2013. He was always willign to help at annual dinners or special events at the College.
For many years John attended the annual Farnham Beer Festival which was an opportunity for him to catch-up with many of his old school friends.
John celebrated his last birthday at the "Hop Blossom" in Farnham in October 2013 where he kindly treated his old school friends to a pub meal.
John was admitted to Frimley Park Hospital on the 22 November 2013 and sadly, spent Christmas on the ward. Many of his friends as well as his immediate family visited him throughout his stay.
John was generous, kind, sincere, caring, honest and a great teller of stories concerning the "Old Boys". Through his membership of the Old Farnhamians his old friends were able to renew an acquaintance which reminded us of the values that Farnham Grammar School instilled in us, and which Paul French often recited at assemblies. These were that school was not just about academic achievement, or being a good (or indifferent) sportsman. The school was there to produce "good citizens" for the future, and to share these values with the wider world. John was true to these values and we shall miss him greatly.
John is survived by Amanda and Michael, and his mother, Betty Saunders.
His funeral was held at the Park Crematorium, Aldershot, and was attended by a large number of friends and family, including a number of his friends from Farnham days and members of the Old Farnhamians.