Mike is one half of the Editorial team on Blunderbuss. Here he is driving his Massey Ferguson around his ample acres in deepest Surrey!
"Hello school chums!
"At the time of our Millennium reunion, I was employed, married and with 3 kids living at home. 11 years on, I'm still living in Hindhead but am now unemployed and divorced with 3 kids still at home (just). Oh! and in the interim, I narrowly escaped the murderous intentions of a driver on the M3. C'est la vie. But when one door closes (or indeed several)…..
.....with hindsight the job I had was comfy rather than challenging and now that I'm prematurely retired and enjoying the prevailing low mortgage interest rates, long may they last, I find myself indulging in comedy and music gigs, spending quality time with the kids, parents and aunt, looking after assorted dogs and hens, going walking at weekends and the occasional eventful trips to India.
Music has always been an interest and I get to see my favourite artistes The Stones and The Kinks and of course I get some satisfaction from seeing my friends from the OFA at the annual dinner and regular post committee meeting drink sessions at the Hop Blossom. Award five points to Gryffindor if you followed the musical references! My eldest is fingers crossed 'good to go' to Virginia USA (cue Neil Diamond's America, Country Roads, et al) to join a college 'soccer' team on the back of a sports scholarship. My 17 year old is either to be found in recording studios, checking out potential uni campuses, or busy with his head-girl girlfriend. And lastly, but certainly not least, my daughter Vicky is into hockey, DOE and set for college in 2012. Unsurprisingly, family holidays are increasingly difficult to arrange.
Having survived the intervening years, I'm really rather grateful to be here at all and on that note, I leave you with a quote from Keith Richards "It's good to be here; it's good to be anywhere". Hope to see some of you at a future function of one sort or another.
Best wishes to all, Mike Mehta"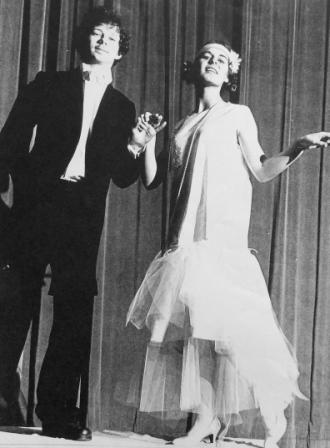 Mike and Kim Larby in the College production of My Fair Lady