David Page (& Howard Norton)
"David has sent us this update:
"David Page and Howard Norton entered into a civil partnership in 2006 having first committed to each other in 1975 while History teachers at Farnham. Howard was ordained in 1980 and served in parishes in South-west London before returning to teaching History and Politics - his first love - at Cranbrook School in Kent. He retired in 2001.
David was ordained in 1983 and worked in parishes in Wimbledon and Battersea before retiring in 2008. They now live in Winchelsea in East Sussex where Howard pursues his keen interest in gardening and they help out in the local church and organise the National Gardens Scheme openings for the town. David spent the summer of 2012 harassing the Church of England over its policy towards LGBT people - see http://www.bbc.co.uk/news/uk-england-sussex-18812834 and http://www.bbc.co.uk/news/uk-england-sussex-19790845
[Note the bust of Mr Gladstone on the sideboard! We are informed this is a "recent acquisition" - a likely story!! - Eds]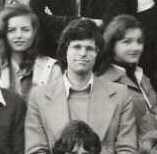 David Page in 1977
(from the College Photo)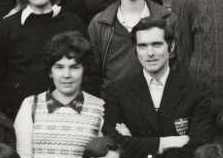 Howard Norton and Sue Bradbury in 1977
(from the College photo)