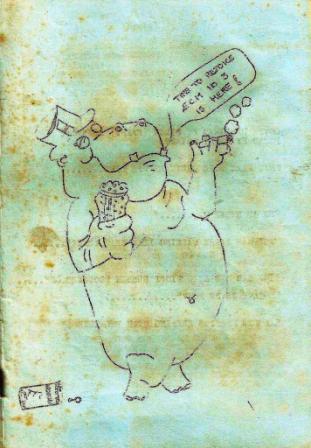 This page provides the full text of the third issue of "ECM", the prototype for BLUNDERBUSS.
You can explore the full Blunderbuss archive here.
Contents of Issue 3
Cover designed by Simon (Harry) Bennett: posed by Penny Bryant.
They were both drunk at the time ...
"No we weren't ..."
"Why was Harry Walking like that then? ..."
"He had his skin tight rubber trousers on ..."
"Where is he now? ..."
"At the station helping with enquiries!"
Arnie (Chairman), Rosemary Bowsher (Secretary), Min Hammerton-Fraser (Under Secretary), Julian Wakefield-Harry (under Min Hammerton-Fraser), David Phelan (under the table), Mick Mehta (motorbike king of Heath End), Jo Sheldon (who's she?), Geoff Whiting (under the influence).
At this time due to examinations and brain surgery the U/6th members of the committee are incapacitated (two however are on the operation waiting list).
(The original set of answers were published upside down with the comment "To read these answers it is necessary to stand on your head. See Peter Capewell for lessons at the Waverley."
ACROSS
1. Michael / 2. Ba / 3. Rotten / 7. Hit / 8. Barn / 9. Al / 11. Close / 15. To / 16. Be / 17. Ended /
18. Ever
DOWN
1. Mob / 4. Gin / 5. Horrible / 6. Eat / 7. Heat / 8. Able / 10. Able / 11. Bee / 12. Ate / 14. Or
You will be glad (or mortified) to hear that there will be a post-exam disco for everybody at the College to be held in mid-July. This will consist of music from the stax-of-wax disco and there will be no group playing this time. We hope that all U/6th and 5th year will return from their holiday break to attend this orgy marvellous "celebration" in this Jubilee year (although that has nothing at all to do with it).
Although we have organised no activities this term due to the 'O'-level and 'A'-level examinations, the Entertainments Committee hope you have enjoyed the activities organized over the last three terms and thank you for your participation and money. We hope you will continue to support our events and our legs if you are sensible enough to stay on here next year.
This revue was performed in front of a drunk large audience on Thursday 5th May and has been heralded as a masterpiece by all those in it.
The review was first thought of when Martin Collier was lying drunk under a pile of coats at a party and came to fruition only after months of hard work and beer-drinking by several students. I happen to know that Mr. Collier gave up his homework on several occasions to go to parties work on the revue. After three rehearsals, and an incident with the caretaker involving a guitar, the revue was ready to be seen by staff and students, and Mr. Gorman.
The Revue was introduced by a man wearing a large coat who has been heard to use terms like "up and under" in mixed company on more than one occasion. After he had been booed off the cleaners came on and had some trouble lighting a cigarette (it was all in the script). The third item was set in a restaurant, and to confuse the rather stupid audience (mainly staff) the waiter was French and the guitarist was a dago Spanish. After a disturbing scene and some even more disturbing singing the sketch ended with the deeply satirical line "I rather like boeuff boignionion". The nipple dance was received well, but none of the girls would join in as requested (apathy is rife). In the next sketch Jeremy Hardy had trouble with his trousers and Arnie did unmentionable things with a vacuum cleaner (so what's new?). Art Today was very intellectual and neither Martin Collier or Geoff Whiting understood it.
Mr. Nicholson leapt from his seat when Jane Ashby and Barbs came on in their tarts gear (normal for them) and had to be restrained by doctors. Jeremy Hardy's health food specialist warned the girls about the health hazard of bananas in a most unusual manner.
Martin Collier then came on as himself ... a complete looney, in the psychiatrist sketch. And he lived to tell the tale. In the directors sketch John Clarke played the part of a failure brilliantly and his antics with a toilet brush surprised even himself.
The appearance of the blues/punk/jazz/rock band was long overdue (Jeremy took too long changing for it). Despite references to Jeremy's flies by a rowdy in the audience the band played Farnham College Blues with the freshness as if they had never played it before ... and they hadn't. Despite the fact that his coat was still alive Jeremy Hardy sang [as] badly as ever, Geoff Whiting's guitar playing was abominable and Martin Collier didn't get one note right ... so the audience just loved it!
Geoff Whiting's attempts to open a stand were nearly as bad as Mr Nicholson's are and he had some trouble. It was however the well-timed splitting of his trousers that really had the audience rolling (not a pretty sight).
In the musical restaurant sketch quickfire gags and machine gun-fire kept the audience's attention.
The Hamlet sketch met with problems and Martin Collier was forced to shoot himself twice, this however did not actually cover up the fact completely that he had forgotten his line.
The court sketch starred Mr Gorman, but still it was quite good. A manicidal judge sentenced several innocent revue directors to serve 5 years in the Tuckshop but their plea of insanity was believable (having seen the revue) and he let them off.
P. C. Twit was the hero of the hour and his (late) entry and testimony kept the audience asleep for several minutes.
Mr. Gorman coped with a mysterious fall of polystyrene with the usual placid surrender associated with hamsters, and the audience loved it.
As the curtain dropped so did Martin's trousers and another revue was over. Chris Greentree was congratulated on his handling of the curtains and of Susie Clayton; and all those involved celebrated with "minerals" afterwards until they were thrown out by the caretaker, and went home to tea.
G.W.
The boys athletics team competed in two meetings on the 24th and 25th May. They were successful in both: the first they won, beating Farnborough College and Godalming College: the second they tied for first with Queen's College Basingstoke, beating Red Rice and Totton College with ease.
Both meetings produced good performances from Farnham College students.
Geoff Whiting and Mick Poulter ran well in the sprints to pick up points for the college. At the first meeting at Farnborough, Whiting won the 200m in a time of 23.9 secs and Poulter came in fourth in 24.1 secs. At the second meeting they came in 2nd and fifth respectively.In the 100m Geoff Whiting came 2nd at Farnborough, and Poulter 5th, whilst at the second meeting Whiting came in 1st (11.6 secs) and Mark Foster came 5th.
In the 400M Mark Foster came in 3rd at Farnborough and 2nd at Basingstoke but was never pushed to the limit of his capabilities. Paul Mead ran also to come 4th at Farnborough. (Rumours that they completed the 400M at Farnborough in a Ford EScort by running down the other runners are of course unfounded).
Paddy Bryant ran brilliantly in the 800m and 1500m at both meetings, winning a total of four very tiring races in the space of two days against fresh opposition. Bryant coasted home with ease in the two 1500m events and in the 800m at Farnborough and was only pushed in the 800m at Basingstoke; in this race he beat off a fierce challenge in a sprint finish over the last 50m to win.
Paul Mead competed in the 800m at both meetings and gained 3rd and 4th place respectively at each. He ran strongly at Basingstoke to set a very hard pace which weakened the opposition, but was just beaten in the fast finish.
Mark Powis marked his arrival on the athletics scene by competing in the 1500m events at both meetings. He came 4th (last) both times but failed to convince the track officials that he had lapped the others three times.
The relay was so exciting that both the spectators and the judges woke up; one broke his surgical support and another dropped his ear trumpet. The dead deadly F.C. combination of Henderson, Poulter, Foster and Whiting proved that beer is the key to success by coming in 2nd, but entertaining all at Farnborough with a display of batton juggling. At Basingstoke victory again eluded the team due to a bad batton change and Foster running with both legs in plaster; they came 2nd by about ½m.
In the field events F.C. were equally as bad as in the track events.
Mark Powis attempted the high jump bravely but couldn't do his best, having just run a mile (after a female competitor called Karen who was wearing a tight skirt and "had a nice personality"). He came 4th at Farnborough and 5th at Basingstoke. A. Harding however jumped well at Farnborough but couldn't quite clinch first place. At Basingstoke Mark Powis was at it again (he ought to be arrested) and came 5th in the high jump against the Tottenham Toddlers Club. Paul Head competed also a fell over a lot of the time (he came 6th).
Mark Foster excelled (is that legal?) in the long jump at both meetings and came 2nd. His technique and beer drinking were superb.
In triple jump Tony Doyle was excellent. He jumped wall at Basingstoke to win the competition with ease. Adrian Probert, although he jumped a shorter distance was more entertaining; at one stage he appeared to cross his legs in mid air! He also came 2nd in the javelin (5th at Farnborough), but never reached his best form. Richard Henderson also threw javelin at Farnborough but only came 4th with a throw well short of his best (46m approx).
Pete Hayman and Alan Othen threw well in the shot. Hayman came 2nd at Farnborough and Othen 3rd. Othen also threw well to come 2nd at Basingstoke.
In the discus F.C. had no experienced throwers but Foster and Poulter picked up some points by competing. (Mark surpised everyone when he managed to throw the discus into a tree behind him).
All in all though both meetings reflected the superiority of Farnham College in the field of sport, as already established by the soccer and rugby teams.
Despite the effort of competing two days running (no pun) the "lads" were still full of life afterwards as is summarised in this comment to the nubile young lady serving refreshments after the Basingstoke meeting ... "What are you doing tonight?" - M. Foster.
By Our Roving (Hands) Reporter
by Madame Louigié (Whoever she may be)
CANCER
You should have a good time if travelling. Try to avoid becoming crabby with friends. A good month though for coming out of your shell.
LEO
Your main feature this month is leadership. At a party you could be a roaring success if you forget your pride.
LIBRA
The scales are weighed in your favour this month. A solved problem will take a weight off your mind.
VIRGO
This is a pure month. Not a good time to try anything for the first time.
SCORPIO
Watch what you say you might sting someone's pride. All your problems come in the tail end of the month.
SAGITTARIUS
You will be very direct this month, but don't set your sights too high. have a shot at something new.
CAPRICORN
Don't be too stubborn - try to co-operate. A good month for mountaineering. A long desired romance will come to fruition.
AQUARIUS
If there is a drought beware. You should be prepared for a trip to the Sahara.
PISCES
You may have friends at the coast. Beware of fishy circumstances and keep things on the right scale.
ARIES
Someone may accuse you of being a wolf in sheeps clothing. Don't let the wool be pulled over your eyes.
TAURUS
Don't wear red in Spain. Take problems by the horns and don't let Mat adore you too much.
GEMINI
Stick to a friend and remember the saying "Two's company three's a crowd". A good time of year to buy a twin-set.
Patient: Doctor, doctor, I think I'm a bar of soap
Doctor: Well that's life boy.
The Farnham College Tuckshop collapsed yesterday after a visit from a mysterious arabic looking gentleman wearing dark glasses (no, not Mr Nicholson!). Apparently Sheik Abdul was making a take-over bid for the tuckshop to use as a harem (just what Martin used it for). Mr Martin R. Pratt agreed on a figure (36-24-36) and Sheik Abdul got out a bag of gold coins. When the Sheik put his bag of money on the counter however, it collapsed, bringing the rest of the tuckshop superstructure down with it.
Michael Mehta was arrested yesterday after burning a police car off the road on his Yamaha 100. The police refused to believe he could control it properly with a bottle of beer in each hand a beer keg balanced on the petrol tank.
Two Irishmen were caught yesterday trying to break into the college tuckshop using T.N.T., a tunnel system and welding equipment.
Immitation Leather [sic]
The boys
Astride their mechanical egos
Tear
Into the soft flesh of night
And
Leave it to bleed.
The bikes
Scream into a world
Where a leather jacket
Has no face
But still holds a place
In the dream
Of adolescent girls
Chasing
Images.
By Geoffrey Whiting.
On Monday 23rd May the Council met to elect a new Senior Council to take over from Nick Gregory, David Phelan, Penny Hazell, Alan Watson and John Talbot (the old Senior Council) until October 1977.
Representatives from all the 6th year Tutor groups voted for candidates for the positions of Chairman, Vice-Chairman, Treasruer and Secretarys. After exciting voting had taken place the new Senior Council stood as follows:
Chairman: Simon Oelman
Vice-Chairman: Susie Turner
Treasurer: Charlie King
Secretary: Geoff Whiting
Secretary: Alison Warren
The new Senior Council has already met with the Headmaster and is keen to carry on representing your views to the staff body. If you have any ideas on anything to do with the running of the College or any other issues you would like to raise, see a member of the Senior Council now.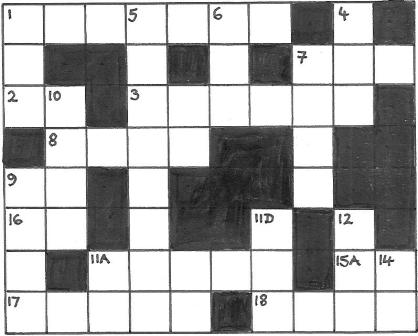 ACROSS
1. First name of dog (also a sex maniac) (7)
2. Sheep say this a lot (2)
3. Second name of Punk Rock star, also describing the E.C.M. (6)
7. Opposite of miss (3)
8. .... dance. Also good for the other. (4)
9. First two letters of aluminium oxide (2)
11. When I see a girl I get ...... (5)
15. ... be or not ... be (2)
16. To ... or not to ... (2)
17. It is over. It has .... (5)
18. Beginning of a bad team (4)
DOWN
1. Geoff is a member of Mick Mehta's ..... (3)
4. Jane's favourite drink (3)
5. The Tuckshop is .... (8)
6. Mr Wilson is learning to ... (3)
7. Many bodies provide .... (4)
9. Fiona's body is ... (4)
10. Rather similar to 9 Down (4)
11. The bird and the ... (3)
12. One more than seven (3)
14. Either .... (2)
Follow this link to the section containing the answers.