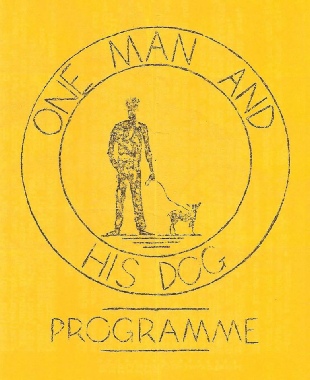 The infamous revue "One Man and His Dog" was performed on the evening of Thursday 5th May 1977 in front of a drunken large audience.
Currently we only have copies of the programme, which is reproduced on this page.
As some of the programme is not very well printed, we also provide a transcript.
A review of the revue was published in the June 1977 issue of BLUNDERBUSS
Here is the front cover of the programme.
And here is the full programme of skits and sketches (a transcript appears further down this page).
"ONE MAN AND HIS DOG"
A student revue.
Sketches in order of performance.
1. INTRODUCTION - The Revue is introduced by a popular folk hero.
2. CLEANERS SKETCH - Written and performed by two psychiatrists.
3. RESTAURANT SKETCH - Featuring a world famous jazz/rock guitarist.
4. THE NIPPLE DANCE - Performed by several young native girls.
5. PSYCHIATRIST SKETCH - Written and performed by two cleaners.
6. CENSORSHIP SKETCH - In which nothing is censored.
7. ART TODAY - An interesting and educational discussion between dogs.
8. BANANA SKETCH - Featuring two young girls and some bananas.
9. PSYCHIATRIST TALK - Which has nothing whatever to do with cleaners
10. FILLERS - Bits and pieces, skits and songs to bore you for a bit.
11. DIRECTORS SKETCH - The moving and horrible story of failure.
12. SONGS - See three stars of rock'n'roll breaking up their guitars.
13. MUSICAL RESTAURANT - The action is about as fast as a steam roller.
14. HAMLET - The full four hour version of this play by Shakespeare.
15. BLACK HUMOUR - Anything could happen in this sketch to end all.
16. COURT SKETCH AND FINALE - The moment of truth for the sketch directors. Look out for a well known football team a short man wearing glasses.
CAST IN ORDER OF APPEARANCE
Tony Baines-Wearing: Cathy DAvies: Tina Dorling: Mike Mehta: Norah Wheeler: Russ (Da Vinci) Christian: John (Hamlet) Clarke: Katy Long: Martin (Psycho) Collier: Geoff (The Loser) Whiting: Mike Mehta: Simon Lucas: Arnie: Jeremy (Feel like makin' love) Hardy: Jane (Legs) Ashby: "Big Barbs": Tim (Garfunkel) Bartlett: Guy Hurst: Harry (The Man) Bennett: Mandy Skeggs: Mike Mehta: Carl May: Julie Ankerson: caroline Hooley: John (Cosser) Young 111: Mike Mehta.
DROPS BY Harry (The Boss) Bennett
UNDER HIM IS "Penny" (His number one fan)
ALSO ON PROPS (or under them)
Pat (The Raver) Wardale: Susie (Welch) Clayton: Mick (The Lad) Peters
CURTAINS OPERATED BY
The one and only West Ham Utd supporter ... Chris Greentree
TAPES COMPILED BY
Martin Collier and Geoff Whiting (without the aid of alcohol)
TAPES AND ATOMIC GENERATORS OPERATED BY
Tim O'Dell
LIGHTS STOLEN AND OPERATED BY
John Knight (Prisoner 21967) and John Wilson (Prisoner 21384)
PIANO BUILT AND PLAYED BY
Ian (Fingers) Maxwell
FRONT OF HOUSE MANAGED BY
Ian Richards ... who was helped by Gill Fox (but that's his affair)
PROGRAMME COMPILED BY
Geoff Whiting and John Clarke (cover design)
Jane Lucas and Nicola Phair are nothing whatsoever to do with the Revue and have no knowledge as to the whereabouts of Geoff Whiting's trousers.