We have received the following news from Rupert (FGS 1971-74):
"Dear Mike,
It was great to hear from you after all these years. John Clarke [we share the same birthday - Ed' s note] has kindly kept me up to date - and the Blunderbuss seems a mighty weapon of mass dissemination.
So many familiar names in it – but with curiously aged faces staring back at me from their photos. I left FGS in 1974 before the fourth form and moved reluctantly to Weymouth when my father was transferred to Portland from London with the MOD. Weymouth Grammar School is now defunct and didn't have quite the academic clout that FGS enjoyed but it was OK - and I got a scholarship to New College Oxford, read medicine and tried to row. Seven years later I left and dragged my very long suffering wife Jill round the country from Stoke-on-Trent to Manchester, Nottingham, Bristol, Cardiff, Beaumaris, Swansea and finally Torquay - where we now have lived for 17 years. Such was the life of a junior surgeon crawling up the greasy pole. I'm now the senior (aka oldest) general surgical consultant here at Torbay Hospital. My specialist area is colorectal surgery - don't laugh. I cannot sit front row at comedy nights either for fear of being the butt of jokes. I'm also heavily into colonoscopy, training and Bowel Cancer Screening.
Jill and I have been married 27 years and have 3 boys - Will, who is an infantry officer and deployed in Afghanistan currently (May 2013); Jack, a medical student in Birmingham and Ben who's still here at Torquay Boys' Grammar School - which is an excellent institution.
Devon is a great place to live and bring up a family. We have sea, countryside and genuine wild country with Dartmoor just half an hour away. Walking and cycling are big hobbies - I did the John O'Groats to Lands End ride in 2011 and have ridden some of the Alpine routes in France. There are several organised sportive cycling events in Devon each year - attracting loads of fellow Lycra warriors wheezing up Devon's hills.
As a family we've been able to travel quite a bit and usually manage to get skiing once a year or so - I book my crutches and fracture clinic appointment in advance now to save time.
One thing I've always been good at is failing to keep in touch with people. It's been great to be plugged into your Blunderbuss network - you will not find me on Facebook or Twitter.
I have attached a relatively recent photo of me looking happy at work!
Best wishes, Rupert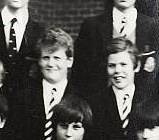 ... And bringing up the rear (so to speak) here is Rupert with Chris Nelms back in 1972.
(From the 1972 School photo)