This is a tribute to a much-loved Science teacher of FGS who died on 30 July 2012 at the age of 88. A very sad aspect of this is that the writing of this tribute was almost the last act of his son Matthew, who tragically died on the day of Stanley's funeral. Matthew's own obituary is posted elsewhere.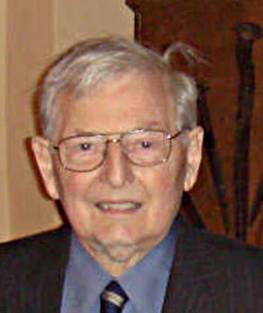 Stanley James Owen was born in Ashford Kent on the 14 July 1924 in the flat above his parents' shop: the Chocolate Box sweet shop in the High Street. He was the eldest of four children: brother to Mary, Deryck and Sylvia.
He attended Ashford Grammar School, and went on to Bristol University in 1942 having won a science bursary. Meanwhile the war had started but his call-up was deferred until after his graduation. He was a keen sportsman and a very good hockey player, playing in goal and representing Southern Universities and the West of England. In those days hockey goalkeepers lacked much of the protection modern players enjoy – of which more anon.
In 1944 he joined the Royal Naval Volunteer Reserve and after training at Portsmouth he was posted to Brisbane Port radio base in Australia as a radio officer. Following VJ day he joined HMS Rams Head, sailing from Australia to Hong Kong and subsequently visiting Japan, including Hiroshima.
After coming home he returned to Bristol University to take an education diploma before doing his teaching practice at Kent College and getting his first job at Isleworth Grammar school.
He met Faye at a party in Ashford where she first saw him doing a handstand balanced on two beer bottles – she asked him "does it hurt?" and he answered "not yet!"
Stanley and Faye were married on the 29 of December 1949 in Hythe. Shortly before the wedding he lost one of his front teeth while playing hockey for Ashford. He didn't have time to go to a dentist before the ceremony so Faye said to him "whatever you do - don't smile". Needless to say he couldn't help but smile.
Following their marriage Stanley and Faye set up home in rented rooms in Heston, close to Isleworth. During that time they nursed their nephew – "ME" (Rory) - through whooping cough. They moved back to a flat in Ashford in 1951 when Stanley got a job at Maidstone Grammar. Howard was born there in 1952 and they moved to their first house in Maidstone in 1953. Three years later they moved again, to Bristol where Stanley taught at Kingswood Grammar and where Matthew was born in 1957. Yet again on the move, in 1960 Faye and Stanley moved to Farnham where Stanley taught at Farnham Grammar School, and where he was to spend another 52 very happy years with his family.
At Farnham Grammar School he was the Head of Science and contributed hugely to the life of the school, among other things leading one of the Houses (Harding), helping to run the combined cadet corps, arranging the lighting for school productions, and leading a school party on the Surrey Schools Cruise around the Mediterranean on the SS Nevasa – a converted troopship. A party from the Girls' Grammar School were also on the trip which may explain why at school assembly on the day the cruise departed the hymn chosen was - "For Those in Peril on the Sea"!
He taught at Farnham Grammar School until joining the Associated Examining Board in 1974 as the head of education. During this time he visited schools in Hong Kong and Malawi where the AEB ran large examination centres. The AEB later became the Southern Examining Group and Stanley worked there, among other things, on the introduction of the GCSE.
He retired in 1990 but remained busy in his retirement. Faye and Stanley enjoyed musicals and ballet and made fairly frequent trips to London, Southampton, Birmingham and Oxford. Holidays became less frequent as the years went on but they both have fond memories of Devon, Cornwall and the Lake District.
He also enjoyed looking after his grandchildren Sam, Catherine and Amy of whom he was immensely proud. They all enjoyed their many trips to the theatre with Granny and Grandpa and they were also regulars at school productions, carol services and Christmas and summer fairs. Stanley was a skilful woodworker and the beautifully made dolls houses and stables he made for Catherine and Amy will last, until great grandchildren – no sign of them yet – are ready to enjoy them again.
Stanley was always in demand for his wisdom and experience, providing patient maths and science coaching for many of his friends' children and running adult education classes at Farnham College. John Noakes attended one of his beginner's navigation evening classes.
Howard and Matthew have fond memories of family holidays in Devon and Cornwall and sailing on the river Dart in the Mirror dinghy that Stanley made with them, from a kit, in the garage in Heath Lane in Upper Hale. And when at home, he sailed the boat with Howard and Matthew at Frensham for several years.
Faye has many happy memories of their 62 and a half years' of marriage: celebrating Gold, Ruby and Diamond anniversaries. Following their Ruby wedding in 1989 they spent 3 days in May in Paris, enjoying lunch on a scorching hot day on a Bateau Mouche on the Seine.
Since January this year Stanley faced mounting health problems but bore them bravely and uncomplainingly. He always had a smile for visitors and quite often a wink for the nurses.
Everyone who knew Stanley will miss him enormously but remember him for his kindness and generosity: a really lovely and loving husband, father, grandfather, uncle, brother and friend.
Matthew Owen