Welcome to the Home Page of Blunderbuss!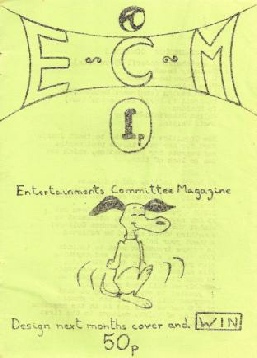 BLUNDERBUSS is aimed at former members of both Farnham Grammar Schools and Farnham College who attended between 1971 and 1979.
The website has developed over the last few years and aims to reach a wider audience through cyberspace which will (hopefully) prompt wider and faster feedback, and bring back happy memories.
Currently BLUNDERBUSS is masterminded by Mike Mehta and John Clarke, who just so happen to have been involved in the production of the original Roneoed editions of BLUNDERBUSS (courtesy of Mrs Brown).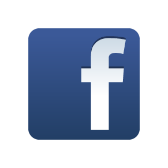 Our new Facebook Page!
Geoff Whiting kindly set up a new Facebook Group - "Farnham Grammar School Friends". Unfortunately "Blunderbuss" has already been used by another group.
We hope the Facebook Group will facilitate easier posting & sharing of photos and other memories, although we aim to keep the website developing along its usual lines.
Class of '71 - Half a Century On
Our latest reunion took place on Sunday 26th September will be the revised date for our '50 Year Party'.
Helen Murray (Pratt) has kindly designed this illustration for the special event - click on the picture to view our new online gallery for the event.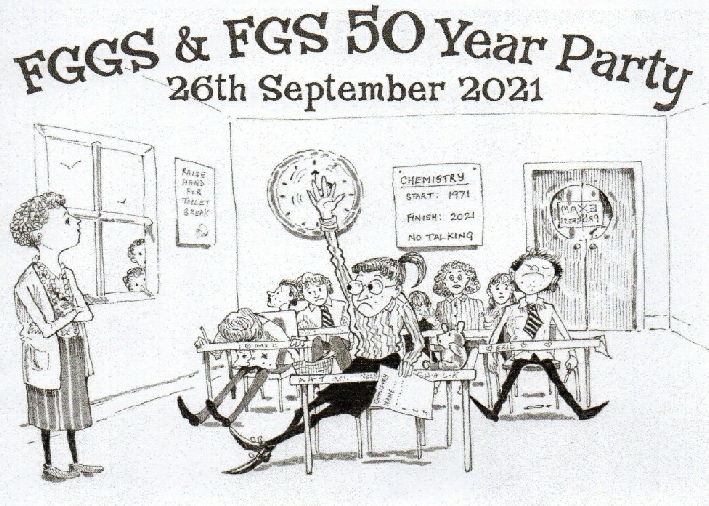 Stella Bolt RIP
We are sorry to report the death of Stella Bolt, a former President of the OGA. She had been unwell for a few weeks and was admitted to Frimley Park Hospital. Her health deteriorated further and she finally slipped away on 2 February.
Pamela Harding RIP
We regret to report the death of Pamela Harding at the end of 2020, aged 94. Further details will be posted in due course.
Mrs Harding was appointed as one of the Vice-Principals of Farnham College when the two schools merged in 1973. The Farnhamian (July 1973) recorded "We say hello to Mrs Harding who joins us as a Vice-Principal of the College" and elsewhere noted that "Room G will be the Vice-Principal's office (she's a female version of Mr McLaughlin)". David Bathurst recalls that Mrs Harding started at FGS at the beginning of the 1973 summer term and led a full school assembly on 10 May.
Janet Jude tells us that Mrs Harding remained as Vice-Principal of Farnham College until she retired in the mid-eighties. She had worked with Paul French in his previous school and he brought her with him. Her subject is believed to have been English, but she did little teaching.
Any further information is welcome.
Betty Morris RIP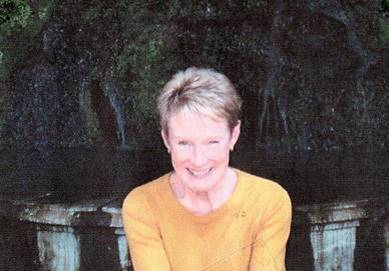 We regret to report the death of Betty Morris on 14 March 2021. Her funeral will take place on Friday 9 April at 10.30am. Due to Covid restrictions her funeral service will be for the family only, A celebration of her life will be arranged at a later date.
If you would like to receive details of how to access the Webcast of the funeral please contact the editors.
Betty's family have requested no flowers please but
charitable donations are welcome in aid of the Phyllis Tuckwell Hospice.
Betty Morris joined t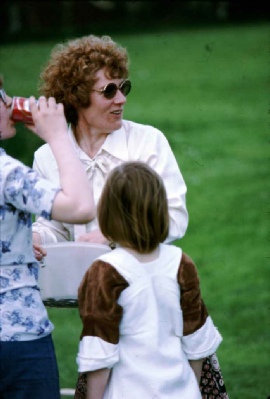 he staff at FGS in September 1971, "to teach Biology [and] to augment our female staff" in the words of the Farnhamian (December 1971).
She was a much valued and fondly remembered member of teaching staff who also regularly attended reunions and similar events over the years.
Betty was born in Blackburn, near Pendle Hill. She attended Clitheroe Grammar School, and was offered a place at UCL but went to Manchester University to study botany.
Betty taught biology for thirty-seven years and became a senior tutor at Farnham College. At her funeral it was mentioned that her friends from FC were a great comfort to her during her illness, with letters and visits.
Betty at the "400 Fete" in May 1978.
Mike's photo (below) shows a staff room scene with:
(Back row) Mr J M Darker, Miss D J Morgan (back to camera), Mr T R Costin, Mr D W Nicolson, Mr A Fordham, Mr S J Owen (back to camera)
(Front row): Mr R Grogut, Mrs B Morris and Mr P E Larby.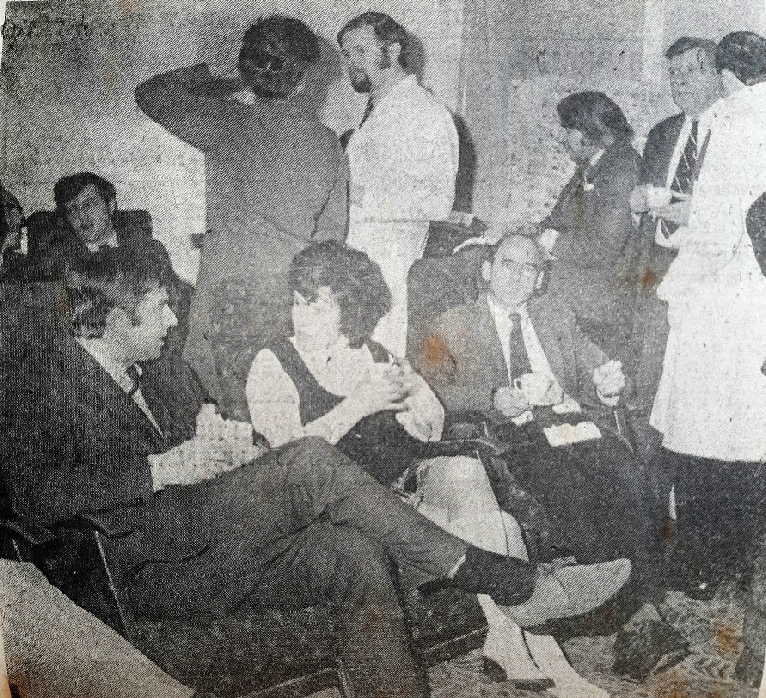 David Titchener RIP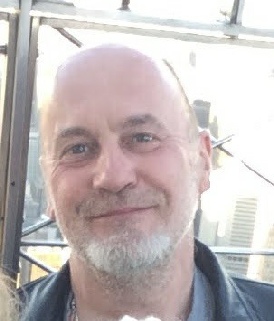 We regret to report the death of David Titchener ('Titch') on 2 October 2021.
David was site supervisor and Science teacher at Frome College.
The College has left a book of condolence in Frome Town Hall. Members of the community can leave messages between 9am-5pm Monday-Thursday and 9am-4.30pm on Fridays.
'Titch' joined Frome College in 1987, and over his 34 years of service to the college he taught and supported many, many individuals. The College looks forward to celebrating his life and the energy he invested in the college site to make it so beautiful.
David's funeral service will take place at the West Wiltshire Crematorium on Wednesday 17 November 2021 at 2.30pm.