Upper 6th: 1977-78
Our final year began in September 1977.
Highlights of this year included the election for the Staff-Student Consultative Committee, the 400 Fete, celebrating 400 years of secondary education in Farnham, and the Leaver's Dinner. There is a separate page with information on the "College Copse" in Farnham Park, planted as a permanent reminder of the 400 celebrations. We also include on this page an account of the December 1977 Carol Concert.
Mike Mehta has sent us this photo of one of rosettes used in Martin Collier's storming campaign to become Chairman of the Staff Student Consultative Committee.
Here is the menu for the Leavers' Dinner which took place in July.
Toasts were given by Martin Collier (the College) and Mr French (the Leavers).
Whilst this photo has been submitted by Gillian Mansfield who tells us it was taken on the last day of College in July 1978: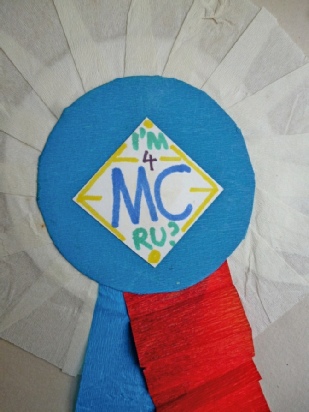 The College Carol Concert took place in St Andrew's Church in December. Here is the account taken from the Farnham Herald:
"Farnham College held a traditional Festival of Nine Lessons and Carols in St Andrew's Parish Church, Farnham, on Tuesday evening last week. As in former years, the church was crowded for a moving and musically rewarding service.
"The singing was directed by Mr Christopher Hand, Head of Music at the College, and organ music before and after the service was played by Ian Maxwell.
"The opening carol, "Once in Royal David's City" was followed by the bidding, spoken by the Rector of Farnham (Canon Donald Gray). Singing by the College choir alternated with congregational carols and the Christmas story told in the reading of nine lessons.
"The readers were Christopher Jollife and Sarah Crammond (students), Martin Collier (officer of the College Consultative Council), Sheridan Brock (former student), Mrs A. Breeze (member of administrative staff), Mr E. Pratt (a parent), Mrs T. Macair (member of the teaching staff), Mr W. Grenville-Grey (a governor), and Mr Paul French (the Principal).
"Solo singers were Mandy Skeggs, Katy Long, Helen French, Margaret Chambers, Helen Marsh, Sian Williams, Susie Pringle, David Bathurst, Chris Rowe, Mark Grover, Philip Grover,
Ian Maxwell and Andrew Sturt."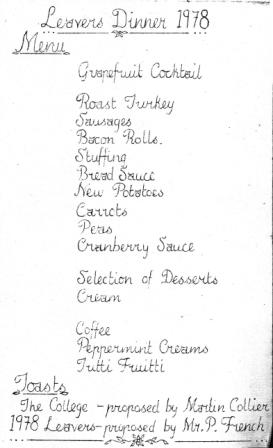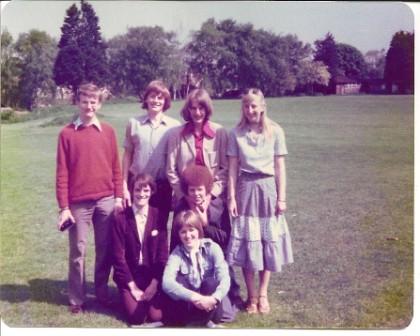 Shown in this photo are (standing) David Titchener, Guy Hurst, John Young, Gillian Mansfield; (seated) John Clarke, Louise Trebble and Anne Pullinger.
Note the old scout hut in the background.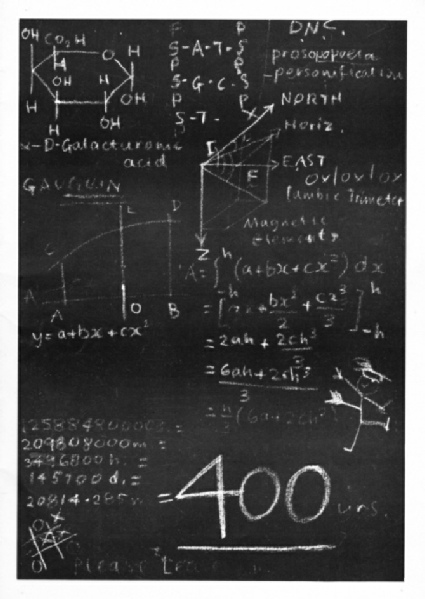 May 1978 saw the celebration of 400 years of secondary education in Farnham, celebrated in part by the 400 Fete held in the ground of the College.
As part of the celebrations, a special "400 Magazine" was published, the cover of which is shown here.
The cover design deserves special attention - note the message "DNC" in the top right-hand corner - familiar to students of "Nick" Nicolson's lessons.